Legume tasters: symbiotic rhizobia host preference and smart inoculant formulations
Abstract
Mutualistic interactions have great importance in ecology, with genetic information that takes shape through interactions within the symbiotic partners and between the partners and the environment. It is known that variation of the host-associated microbiome contributes to buffer adaptation challenges of the host's physiology when facing varying environmental conditions. In agriculture, pivotal examples are symbiotic nitrogen-fixing rhizobia, known to contribute greatly to host (legume plants) adaptation and host productivity. A holistic view of increasing crop yield and resistance to biotic and abiotic stresses is that of microbiome engineering, the exploitation of a host-associated microbiome through its rationally designed manipulation with synthetic microbial communities. However, several studies highlighted that the expression of the desired phenotype in the host resides in species-specific, even genotype-specific interactions between the symbiotic partners. Consequently, there is a need to dissect such an intimate level of interaction, aiming to identify the main genetic components in both partners playing a role in symbiotic differences/host preferences. In the present paper, while briefly reviewing the knowledge and the challenges in plant–microbe interaction and rhizobial studies, we aim to promote research on genotype x genotype interaction between rhizobia and host plants for a rational design of synthetic symbiotic nitrogen-fixing microbial communities to be used for sustainably improving leguminous plants yield.
Keywords:
microbiome engineering, genome x genome, legume-rhizobia mutualism, symbiosis, precision agriculture
Downloads
Download data is not yet available.
References
Bliss, F. 1990. Utilization of genetic resources for crop improvement: The common bean. In: Brown, A. H. D., Clegg, M. T., Kahler, A. L., and Weir, B. S. (Eds.), Plant population genetics, breeding, and genetic resources, pp. 317–333, Sinauer, Sunderland, MA.
Malfanova, N. 2013. Endophytic bacteria with plant growth promoting and biocontrol abilities. Doctoral Thesis, Leiden University.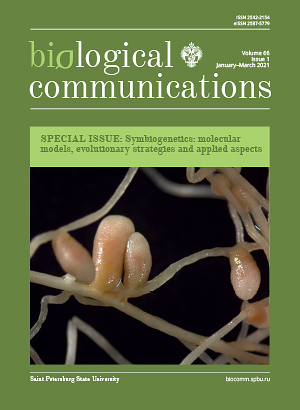 How to Cite
Cangioli, L., Checcucci, A., Mengoni, A., & Fagorzi, C. (2021). Legume tasters: symbiotic rhizobia host preference and smart inoculant formulations. Biological Communications, 66(1), 47–54. https://doi.org/10.21638/spbu03.2021.106
Section
Review communications
Articles of Biological Communications are open access distributed under the terms of the License Agreement with Saint Petersburg State University, which permits to the authors unrestricted distribution and self-archiving free of charge.