New naturally transgenic plants: 2020 update
Tatiana Matveeva

Department of Genetics and Biotechnology, Saint Petersburg State University, Universitetskaya nab., 7–9, Saint Petersburg, 199034, Russian Federation

https://orcid.org/0000-0001-8569-6665
Abstract
Agrobacterium-mediated gene transfer leads to crown gall or hairy roots disease, due to expression of transferred T-DNA genes. Spontaneous plant regeneration from the transformed tissues can produce natural transformants carrying cellular T-DNA (cT-DNA) sequences of agrobacterial origin. In 2019, based on genomic sequencing data, cT-DNA horizontally transferred from Agrobacterium were found in two dozen species of angiosperms. This made it possible to evaluate the spread of this phenomenon, as well as make some generalizations regarding the diversity of horizontally transferred genes. The presented research is a continuation of work in this field. It resulted in the description of new naturally occurring transgenic species Aeschynomene evenia C. Wright, Eperua falcata Aubl., Eucalyptus cloeziana F.Muell., Boswellia sacra Flueck., Kewa caespitosa (Friedrich) Christenh., Pharnaceum exiguum Adamson, Silene noctiflora L., Nyssa sinensis Oliv., Vaccinium corymbosum L., Populus alba L. × Populus glandulosa Moench. The previously identified patterns regarding the frequency of the occurrence of natural transformants and the general properties of the cT-DNAs were confirmed in this study.
Keywords:
cT-DNA, horizontal gene transfer, naturally-transgenic plants
Downloads
Download data is not yet available.
References
Elenevsky A. G. 2006. Botany. Systematics of higher, or terrestrial, plants: textbook. Moscow, Academy. (In Russian)
Schwarz, R. and Dayhoff, M. 1979. Matrices for detecting distant relationships; pp. 353–358 in M. Dayhoff (ed.), Atlas of protein sequences. National Biomedical Research Foundation.
Sneath, P. H. A. and Sokal, R. R. 1973. Numerical taxonomy. Freeman, San Francisco.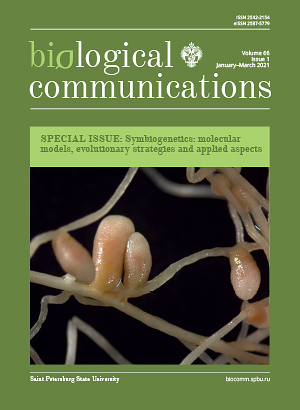 How to Cite
Matveeva, T. (2021). New naturally transgenic plants: 2020 update. Biological Communications, 66(1), 36–46. https://doi.org/10.21638/spbu03.2021.105
Section
Review communications
Articles of Biological Communications are open access distributed under the terms of the License Agreement with Saint Petersburg State University, which permits to the authors unrestricted distribution and self-archiving free of charge.