Reproductive parasitism in insects. The interaction of host and bacteria
Irina Goryacheva

Laboratory of Insect Genetics, Vavilov Institute of General Genetics, Russian Academy of Sciences, ul. Gubkina, 3, Moscow, 117971, Russian Federation; Department of General Biology and Bioecology, Moscow Region State University, ul. Very Voloschinoy, 24, Mytishchi, Moscow Region, 141014, Russian Federation

https://orcid.org/0000-0003-1913-5987

Boris Andrianov

Laboratory of Insect Genetics, Vavilov Institute of General Genetics, Russian Academy of Sciences, ul. Gubkina, 3, Moscow, 117971, Russian Federation; Department of General Biology and Bioecology, Moscow Region State University, ul. Very Voloschinoy, 24, Mytishchi, Moscow Region, 141014, Russian Federation

https://orcid.org/0000-0002-0064-4696
Abstract
Reproductive parasitism is a specific form of symbiosis in which a microorganism alters the reproduction of the host by interfering with the mechanisms of sex development. The review considers four changes in reproduction — male killing, parthenogenesis, feminization, and cytoplasmic incompatibility — determined by cytoplasmic bacteria. The cytogenetic and molecular genetic mechanisms of interaction between partners in the symbiotic system are discussed, including the comparative analysis of molecular-genetic factors responsible for reproductive parasitism. The features of the interaction between an insect and bacteria in symbiosis with various systems for determining the sex of the host, male and female heterogamy and haplodiploidy, are considered. Studies of cytoplasmic incompatibility are of great practical importance, since they open up prospects for non-invasive engineering on natural insect populations for biocontrol.
Keywords:
reproductive parasitism, male killing, parthenogenesis, feminization, cytoplasmic incompatibility, bacteria, insect
Downloads
Download data is not yet available.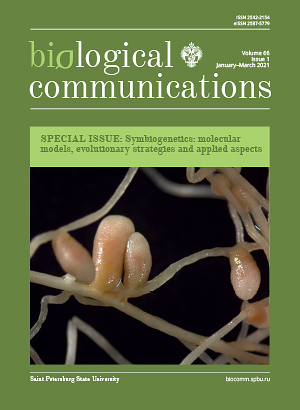 How to Cite
Goryacheva, I., & Andrianov, B. (2021). Reproductive parasitism in insects. The interaction of host and bacteria. Biological Communications, 66(1), 17–27. https://doi.org/10.21638/spbu03.2021.103
Section
Review communications
Articles of Biological Communications are open access distributed under the terms of the License Agreement with Saint Petersburg State University, which permits to the authors unrestricted distribution and self-archiving free of charge.