Developing translational biological psychiatry: learning from history to build the future
Abstract
Psychiatric disorders are among the most complex human disorders that, albeit often difficult to diagnose and treat, are widespread in modern society. Biological psychiatry studies biological functions of the central nervous system as mental disorders develop. Today's biological psychiatry is facing multiple conceptual problems that prevent our deeper understanding of disease pathogenesis and delay the invention of new treatments. Thus, providing a historical context to this rapidly developing field may help scientists better understand the existing challenges and their potential solutions. Here, we discuss the main conceptual problems and paradigms of biological psychiatry, including the lack of reproducibility and/or valid theories, through an historical overview of its role in addressing theoretical and clinical questions. We propose a wider use of the translational approach in psychiatry to expand our analyses of psychiatric disorders to other species, and as a tool to create and further develop theories and concepts in this field.
Keywords:
biological psychiatry, translational medicine, history of psychiatry, modern psychiatry, conceptual issues in psychiatry
Downloads
Download data is not yet available.
References
Abrahams, E., and Silver, M. 2010. The history of personalized medicine; pp. 3–16 in: Gordon, E., and Koslow S. (eds.) Integrative neuroscience and personalized medicine. Oxford, New York: Oxford University Press.
Andreasen, N. C. 2004. Brave new brain: Conquering mental illness in the era of the genome. Oxford, New York: Oxford University Press.
APA. 1960. Diagnostic and Statistical Manual: Mental Disorders:[DSM I]: American Psychiatric Association.
Aragona, M. 2009a. The concept of mental disorder and the DSM-V.
Beck, A. T. 1979. Cognitive therapy of depression: Guilford press.
Berrios, G. E. 1996. The history of mental symptoms: descriptive psychopathology since the nineteenth century. Cambridge: Cambridge University Press.
Berrios, G. E., and Marková, I. S. 2002. Conceptual issues; pp. 1-24 in: D'haenen, H., den Boer, J. A., and Willner, P. Biological psychiatry.
Bonet, T. 1700. Sepulchretum: sive anatomia practica, ex cadaveribus morbo denatis; proponens historias et observationes omnium pene humani corporis affectuum, ipsorumque causas reconditas revelans; quo nomine tam pathologiae genuinae, quam nosocomiae orthodoxae fundatrix, imo medicinae veteris ac novae promptuarium dici meretur;[4 libris comprehensa and in 2 t. divisa] (Vol. 1): Chouët.
Burton, R. 1931. The anatomy of melancholy (Vol. 1): G. Routledge.
Cabanis, P. J. G., and Cerise, L. A. P. 1843. Rapports du physique et du moral de l'homme par P.-J.-G. Cabanis: Fortin.
Charney, D. S., Buxbaum, J. D., Sklar, P., and Nestler, E. J. 2013. Neurobiology of mental illness. Oxford, New York: Oxford University Press.
D'haenen, H. A., den Boer, J. A., and Willner, P. 2002. Biological psychiatry (Vol. 2). Chichester, UK: Wiley.
Ellis, A. 1962. Reason and emotion in psychotherapy. Carol Publishing Group.
Frank, R. G. 1980. Harvey and the Oxford physiologists: a study of scientific ideas: University of California Press. Frankl, V. E. 1976. Man's search for ultimate meaning; pp. 182–203 in: Needleman, J. and Lewis D. (eds.), On the Way to Self Knowledge. New York.
Freud, S. 1984. Mourning and melancholia (1911). The standard edition of the complete psychological works of Sigmund Freud, 23.
Georget, E. J. 1820. De la folie, considérations sur cette maladie: Chez Crevot.
Gert, B. 1996. Hobbes's psychology; pp 157-174 in: The Cambridge Companion to Hobbes.
Harrington, A. 1999. The placebo effect: An interdisciplinary exploration (Vol. 8): Harvard University Press. Harvey, A. G. 2004. Cognitive behavioural processes across psychological disorders: A transdiagnostic approach to research and treatment: Oxford University Press, USA.
Healy, D. 2001. The antidepressant drama.
Hegemann, P., and Sigrist, S. 2013. Optogenetics: Walter de Gruyter.
Hippocrates. 2004. Aphorisms: Kessinger Publishing.
Hobbes, T. 1972. Man and Citizen: De Homine and De Cive: Hackett Publishing.
Hobbes, T., and Macpherson, C. B. 1968. Leviathan; edited with an Introduction by CB Macpherson: Penguin.
Kagan, J., Snidman, N., Arcus, D., and Reznick, J. S. 1994. Galen's prophecy: Temperament in human nature: Basic Books.
Kahlbaum, K. 1973. Catatonia (1874). Translated by Levij Y, Pridan T. Baltimore, MD: Johns Hopkins University Press.
Kahlbaum, K. L. 1863. Die Gruppierung der psychischen Krankheiten und die Eintheilung der Seelenstörungen: Entwurf einer historisch-kritischen Darstellung der bisherigen Eintheilungen und Versuch zur Anbahnung einer empirisch-wissenschaftlichen Grundlage der Psychiatrie als klinischer Disciplin: Kafemann.
Kraepelin, E. 1983. Lebenserinnerungen. Herausgegeben von H. Hippius, G. Pieters, D. Ploog: Berlin: Springer.
Lanczik, M. 1988. Der Breslauer Psychiater Carl Wernicke. Werkanalyse und Wirkungsgeschichte als Beitrag zur Medizingeschichte Schlesiens (Sigmaringen: Thorbecke).
Lee, R., and Avramopoulos, D. 2014. Chapter 1 — Introduction to Epigenetics in Psychiatry; pp. 3–25 in: Epigenetics in Psychiatry. Boston: Academic Press.
Lindemann, M. 2010. Medicine and society in early modern Europe: Cambridge University Press.
Lloyd, G. 1983. Introduction to Hippocratic Writings. Translated by J. Chadwick and WN Mann: Harmondsworth, UK: Penguin.
Lutz, P. L. 2002. The rise of experimental biology: an illustrated history: Springer Science and Business Media.
McHugh, P., and Slavney, P. 1998. The Perspectives of Psychiatry. Baltimore and London: Johns Hopkins University Press.
Meynert, T. 1885. Psychiatry: Clinical treatise on the diseases of the fore-brain. New York and London: GP Putnam.
Moerman, D. E. 2002. Meaning, Medicine, and the" placebo Effect" (Vol. 28). Cambridge: Cambridge University Press.
Morgagni, G. 1769. The seats and causes of diseases investigated by anatomy; in five books, containing a great variety of dissections, with remarks. To which are added very accurate and copious indexes of the principal things and names therein contained. Vol. 2. London, Printed for A. Millar, and T. Cadell, his successor [etc.].
Muskin, P. R. 2008. Complementary and alternative medicine and psychiatry. American Psychiatric Pub.
Nissim-Sabat, M. 2013. Race and gender in philosophy of psychiatry: Science, relativism, and phenomenology; pp. 139-158 in: Fulford, K. W. M., Davies, M., Gipps, R. G. T., Graham, G., Sadler, J. Z., Stanghellini, G., and Thornton, T. (eds.) The Oxford Handbook of Philosophy and Psychiatry.
Panksepp, J. 2004a. Affective neuroscience: The foundations of human and animal emotions. Oxford University Press.
Panksepp, J. 2004b. Biological psychiatry sketched — past, present, and future; pp. 3–32 in: Textbook of biological psychiatry.
Panksepp, J. 2004c. Textbook of biological psychiatry. John Wiley and Sons.
Peedicayil, J., Grayson, D. R., and Avramopoulos, D. 2014. Epigenetics in psychiatry. Elsevier.
Porter, R. 1988. Dizionario biografico della storia della medicina e delle scienze naturali (liber amicorum).
Preston, J., O'Neal, J. H., and Talaga, M. C. 2010. Handbook of clinical psychopharmacology for therapists. New Harbinger Publications.
Roach, I. H., Bronner, F., and Oreffo, R. 2011. Epigenetic Aspects of Chronic Diseases. Springer.
Scholl, R. 2002. Der Papyrus Ebers: die grösste Buchrolle zur Heilkunde Altägyptens (Vol. 7): (Schriften aus der Universitätsbibliothek Leipzig) Taschenbuch — 1.
Shapiro, A. K., and Shapiro, E. 2000. The powerful placebo: From ancient priest to modern physician. JHU Press. Solms, M., and Turnbull, O. 2002. The brain and the inner world: An introduction to the neuroscience of subjective experience. Karnac Books.
Spiegel, R. 2003. Psychopharmacology: an introduction. John Wiley and Sons.
Stein, D. J., and Ludik, J. 1998. Neural networks and psychopathology: Connectionist models in practice and research. Cambridge: Cambridge University Press.
Stone, M. H. 1997. Healing the mind: A history of psychiatry from antiquity to the present. WW Norton and Company.
Sudhoff, K., and Garrison, F. H. 1926. Essays in the History of Medicine. New York: Medical Life Press.
Valenstein, E. S. 1974. Brain control: A critical examination of brain stimulation and psychosurgery. John Wiley and Sons.
Van Sertima, I. 1992. Golden age of the Moor. (series Journal of African Civilizations 11). New Brunswick, U. S. A.: Transaction Publishers.
von Monakow, C., and Mourgue, R. 1928. Introduction biologique à l'étude de la neurologie et de la psychopathologie: intégration et désintégration de la fonction. F. Alcan.
Vora, E., Aloysi, A., and Zhuk, R. 2017. Complementary and Alternative Medicine; pp 383–387 in Psychiatry. Mount Sinai Expert Guides.
Wernicke, C. 1906. Grundriss der Psychiatrie in klinischen Vorlesungen. Thieme.
Wickens, A. P. 2014. A history of the brain: from stone age surgery to modern neuroscience. Hove, UK: Psychology Press.
Willis, T., and Guidott, T. 1992. The London practice of physick. Classics of Medicine Library.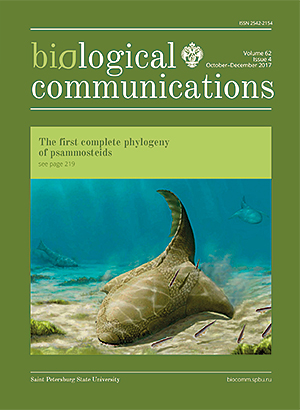 How to Cite
Demin, K., Meshalkina, D., Lakstygal, A., & Kalueff, A. (2018). Developing translational biological psychiatry: learning from history to build the future. Biological Communications, 62(4), 278–292. https://doi.org/10.21638/11701/spbu03.2017.407
Section
Review communications
Articles of Biological Communications are open access distributed under the terms of the License Agreement with Saint Petersburg State University, which permits to the authors unrestricted distribution and self-archiving free of charge.