Hereditary symbionts and mitochondria: distribution in insect populations and quasi-linkage of genetic markers
Ilya Zakharov

Vavilov Institute of General Genetics, Russian Academy of Sciences, ul. Gubkina, 3, Moscow, 117971, Russian Federation

https://orcid.org/0000-0002-4759-5940

Elena Shaikevich

Vavilov Institute of General Genetics, Russian Academy of Sciences, ul. Gubkina, 3, Moscow, 117971, Russian Federation

https://orcid.org/0000-0002-6504-5547
Abstract
Maternal transmission ensures the joint transmission and simultaneous presence in populations of individuals with certain variants of the bacterial symbiont and host mitochondrial DNA. Such "quasi-linkage" of cytoplasmic genomes among insects and other arthropods is widespread. The symbiont acts as a "driver" of mitochondria and the obvious biological consequence is the spread of the "linked" mitochondrial haplotype in the population, which itself does not have increased selective value to the organism. Examples of such indirect selective mitochondrial sweep in insects are discussed, as well as biological consequences of this phenomenon and mechanisms of increasing the frequency of symbiont-infected individuals in the population.
Keywords:
symbiogenome, cytoplasmic genomes, insects, hereditary symbiont, mitochondrial haplotype, co-transmission
Downloads
Download data is not yet available.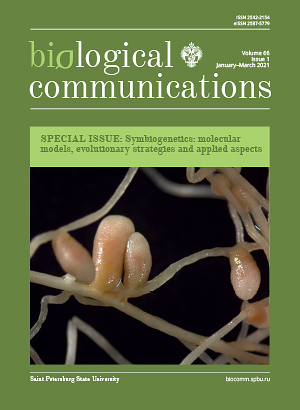 How to Cite
Zakharov, I., & Shaikevich, E. (2021). Hereditary symbionts and mitochondria: distribution in insect populations and quasi-linkage of genetic markers. Biological Communications, 66(1), 6–16. https://doi.org/10.21638/spbu03.2021.102
Section
Review communications
Articles of Biological Communications are open access distributed under the terms of the License Agreement with Saint Petersburg State University, which permits to the authors unrestricted distribution and self-archiving free of charge.