Variability of the Russian populations of Puccinia triticina under the influence of the host plant
Elena Gultyaeva

Laboratory of Mycology and Phytopathology, All Russian Institute of Plant Protection, Shosse Podbel'skogo, 3, Saint Petersburg, 190608, Russian Federation

https://orcid.org/0000-0001-7948-0307

Mark Levitin

Laboratory of Mycology and Phytopathology, All Russian Institute of Plant Protection, Shosse Podbel'skogo, 3, Saint Petersburg, 190608, Russian Federation

https://orcid.org/0000-0002-2557-7805

Ekaterina Shaydayuk

Laboratory of Mycology and Phytopathology, All Russian Institute of Plant Protection, Shosse Podbel'skogo, 3, Saint Petersburg, 190608, Russian Federation

https://orcid.org/0000-0003-3266-6272
Abstract
The article analyzes our own data and data from the literature on the study of plant–pathogen interactions in the pathosystem of Puccinia triticina and host plants of the genera Triticum and Aegilops with different ploidy and genomes. We characterize the long-term variability of the Russian populations of the pathogen, caused by the cultivation of genetically protected cultivars of common wheat (T. aestivum). Differences of the pathogen's virulence on hexaploid species T. aestivum and tetraploid wheat (T. durum) are shown. Data on the pathogen's virulence on other hexaploid, tetraploid, and diploid relative species Triticum sp. and Aegilops sp. are presented. Adaptation and specificity to the host plant were shown as the key driving factors in the evolution and divergence of clonally propagating phytopathogens, which include leaf rust.
Keywords:
leaf rust, wheat, Triticum sp., Aegilops sp., Lr-genes, resistance, plant-host interaction, pathogen
Downloads
Download data is not yet available.
References
Berlyand-Kozhevnikov, V. M., Dmitriev, A. P., Budashkina, E. B., Shitova, I. T., and Reiter, V. G. 1978. Wheat rust resistance (Genetic diversity of the fungus and host plant populations). Novosibirsk: Nauka. (In Russian)
Dorofeev, V. F., Udachin, R. A., Semenova, L. V. Novikova, M. V., Gradchaninova, O. D., Shitova, I. P., Merezhko, A. F., and Filatenko, A. A. 1987. Wheat of world. Leningrad: Kolos, 560 p. (In Russian)
Mikhailova, L. A. 2006. Genetics of the interrelation between leaf rust pathogen and wheat. St. Petersburg: VIZR. 80 p. (In Russian)
Shopina, V. V. 1969. Changes in racial composition of leaf rust on wheat in country. Proceedings of the V All-Union Conference on Plant Immunity 2. Grain crops, Kiev 3, pp. 80–89. (In Russian)
Sorokina, G. K. and Solomatin, D. A. 1975. Dynamics of the racial composition of the causative agent of wheat leaf rust and immunological characteristics of regional varieties. Abstracts of the 6th All-Union Committee on Immunity of Agricultural Plants to Diseases and Pests (Odessa, November 11–14). Moscow, pp. 158–159. (In Russian)
Tsitsin, N. V. 1981. Theory and practice of alien hybridization. Moscow, 160 p. (In Russian)
Vavilov, N. I. 1938. Breeding resistant varieties as the main method of rust control, pp. 3–20 in N. A. Naumov, A. K. Zubarev (eds.) Rusts of cereal crops. Abstracts of first All-Union conference on the protection against rust of cereal crops. Moskow: Sel'hozgiz. (In Russian)
Voronkova, A. 1980. Genetics and immunological basis of wheat breeding for rust resistance. Moscow: Kolos, 191 p. (In Russian)
Zhemchuzhina, A. I., Kurkova, N. N., and Kovalenko, E. D. 2008. Virulence of wheat leaf rust pathogen in Russia in 2000–2005. 50 years guarding the food security of the country. Jubilee collection of works. Bolshie Vyazemy, pp. 325–330. (In Russian)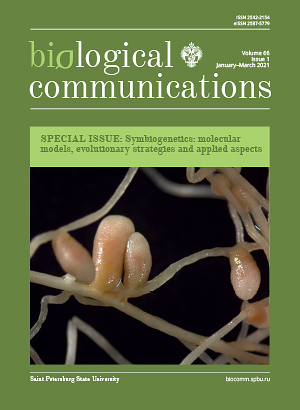 How to Cite
Gultyaeva, E., Levitin, M., & Shaydayuk, E. (2021). Variability of the Russian populations of <em>Puccinia triticina</em&gt; under the influence of the host plant. Biological Communications, 66(1), 28–35. https://doi.org/10.21638/spbu03.2021.104
Section
Review communications
Articles of Biological Communications are open access distributed under the terms of the License Agreement with Saint Petersburg State University, which permits to the authors unrestricted distribution and self-archiving free of charge.