Malfunctions in synaptic membrane trafficking in early pathology of Parkinson's disease: new molecular clues
Elena Sopova

Department of Neuroscience, Karolinska Institutet, 17177, Stockholm, Sweden; Institute of Translational Biomedicine, Saint Petersburg State University, Universitetskaya nab., 7–9, Saint Petersburg, 199034, Russian Federation

Olga Korenkova

Institute of Translational Biomedicine, Saint Petersburg State University, Universitetskaya nab., 7–9, Saint Petersburg, 199034, Russian Federation

Oleg Shupliakov

Department of Neuroscience, Karolinska Institutet, 17177, Stockholm, Sweden; Institute of Translational Biomedicine, Saint Petersburg State University, Universitetskaya nab., 7–9, Saint Petersburg, 199034, Russian Federation

https://orcid.org/0000-0001-5352-6848
Abstract
The midbrain dopaminergic neurons of the substantia nigra and the ventral tegmental area play vital roles in the regulation of voluntary movement, emotion and reward in humans. These neurons are highly metabolic and are under constant oxidative stress. The dopaminergic neurons form extensive synaptic projections to the striatum. When these neurons start dying or when their synaptic connections fail, humans develop Parkinson's disease. This disease is accompanied by the accumulation of toxic α-synuclein-containing protein aggregates in nigrostriatal processes. Synucleins accumulate in a majority of healthy nerve terminals in the central nervous system, but what causes the formation of pathological synuclein aggregates is unclear. Recent studies point out that the interface between membrane trafficking in the nerve terminal and the autophagy–lysosomal pathway is the site for the aggregate assembly. An urgent goal is to find therapeutic targets at early stages of the disease when neurons are still functional.
Keywords:
synapse, synaptic proteins, atophagy-lysosomal pathway, developmental transcription factors, Parkinson's disease
Downloads
Download data is not yet available.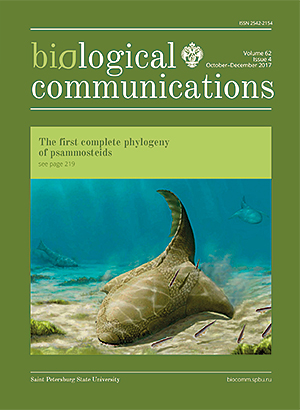 How to Cite
Sopova, E., Korenkova, O., & Shupliakov, O. (2018). Malfunctions in synaptic membrane trafficking in early pathology of Parkinson's disease: new molecular clues. Biological Communications, 62(4), 272–277. https://doi.org/10.21638/11701/spbu03.2017.406
Section
Review communications
Articles of Biological Communications are open access distributed under the terms of the License Agreement with Saint Petersburg State University, which permits to the authors unrestricted distribution and self-archiving free of charge.