Some biological traits of the parasitoid wasp Rhopalicus tutela (Hymenoptera: Pteromalidae) in spruce forests of Moscow Region, Russia
Ekaterina Chilakhsaeva

All-Russian Research Institute of Silviculture and Mechanization of Forestry, Institutskaya ul., 5, Pushkino, Moscow Region, 141202, Russian Federation

https://orcid.org/0000-0002-9273-5850
Abstract
Some biological traits of Rhopalicus tutela (Walker), a parasitoid of the European spruce bark beetle Ips typographus (L.), were studied both in forests of Moscow Region, Russia, and under laboratory conditions. Females of R. tutela have mature eggs after overwintering and thus do not need additional feeding to lay eggs. Under laboratory conditions at 8 °C, the life expectancy of males is 58±44 days and that of females is 36±45 days. An increase of temperature shortens the developmental period of R. tutela, which can proceed without diapause. The duration of one generation in the laboratory at 22–24 °C is 14–16 days. In spruce forests of Moscow Region, R. tutela has two or three generations per year.
Keywords:
Rhopalicus tutela, Ips typographus, parasitoid, biological trait, laboratory insect culture, biological protection, spruce forest
Downloads
Download data is not yet available.
References
Bouček, Z., Půlpán, J., and Śedivý, J. 1953. Poznámky o blanokřídlých cizopasnících kůrovce smrkového (Ips typographus L.) v ČSR . Zoologické a entomologické listy 2(16):145–158.
Chilakhsaeva, Е. А. 2017. Rhopalicus tutela (Hymenoptera: Pteromalidae) is a promising entomophage for use in the biological protection system of spruce from the bark beetle typographer. All-Russian Research Institute of Forestry and Mechanization of Forestry 49:143–147. (In Russian)
Eck, R. 1990. Bionomic notes on some parasitic Hymenoptera associated with bark beetles, especially with Ips typographus (Insecta: Hymenoptera; Braconidae, Chalcidoidea). Faunistiche Abhandlungen 17(2):115–126.
Girits, A. A. 1975. Fundamentals of the biological control of the bark beetle typograph (Ips typographus L., Coleoptera, Ipidae). 154 pp. Lviv: Publishing house Vishka School. (In Russian)
Györfi, J. 1942. Fürkeszdarazs kutatasaim eredmenye, különöstekintettel a mellekgazda kerdesre. Erdeszeti Kiserletek 44:1–165.
Hedqvist, K. J. 1963. Die Feinde der Borkenkafer in Schweden, l. Erzwespen (Chalcidoidea). Studia Forestalia Suecica 11:71–79.
Hougardy, E. and Gregoire J.-C. 2003. Cleptoparasitism increases host finding abilities in the polyphagous parasitoid species
Rhopalicus tutela
(Hymenoptera: Pteromalidae).
Behavioural Ecology and Sociobiology
55:184‒89.
https://doi.org/10.1007/s00265-003-0688-y
Hougardy, E. and Gregoire, J.-C. 2004. Biological differences reflect host preference in two parasitoids attacking the bark beetle
Ips typographus
(Coleoptera: Scolytidae) in Belgium.
Bulletin of Entomological Research
94(4):341‒347.
https://doi.org/10.1079/BER2004305
Kharitonova, N. Z. 1972. Entomophages of coniferous bark beetles. 178 pp. M: Forest industry. (In Russian)
Kolomiets, N. G. and Bogdanova, D. A. 1980. Parasites and predators of xylophagues in Siberia. 278 pp. Novosibirsk: Nauka. (In Russian)
Krüger, K. and Mills, N. J. 1990. Observations on the biology of three parasitoids of the spruce bark beetle,
Ips typographus
(Col., Scolytidae),
Coeloides bostrichorum, Dendrosoter middendorffii
(Hym., Braconidae) and
Rhopalicus tutela
(Hym., Pteromalidae).
Journal of Applied Entomology
110:281‒291.
https://doi.org/10.1111/j.1439-0418.1990.tb00124.x
Tselikh, E. V. 2012. Hymenoptera, Pteromalidae; pp. 150–161 in: Annotated catalogue of the insects of Russian Far East. Volume I. Hymenoptera, edited by Lelej, A. S. Vladivostok: Dalnauka. (In Russian)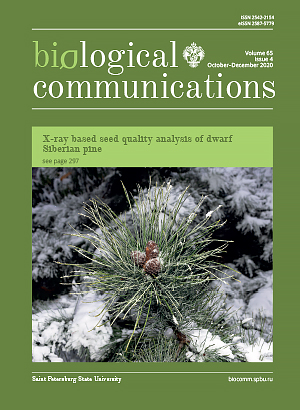 How to Cite
Chilakhsaeva, E. (2020). Some biological traits of the parasitoid wasp <em>Rhopalicus tutela</em&gt; (Hymenoptera: Pteromalidae) in spruce forests of Moscow Region, Russia. Biological Communications, 65(4), 307–314. https://doi.org/10.21638/spbu03.2020.404
Section
Full communications
Articles of Biological Communications are open access distributed under the terms of the License Agreement with Saint Petersburg State University, which permits to the authors unrestricted distribution and self-archiving free of charge.