Brown bullhead Ameiurus nebulosus — new fish species for Russia
Igor Popov

Department for Applied Ecology, Faculty of Biology, Saint Petersburg State University, Universitetskaya nab., 7–9, Saint Petersburg, 199034, Russian Federation

https://orcid.org/0000-0002-2564-3294

Anna Kotova

Pediatric polyclinic No 68 (SPb GBUZ DGP 68), ul. Peredovikov, 21, Saint Petersburg, 195426, Russian Federation
Abstract
The native habitat of the brown bullhead Ameiurus nebulosus is located in the eastern part of North America. This species was introduced in Europe, Southwestern Asia and New Zealand. It was supposed that it entered Russia from the southwest and now inhabits some water bodies at the border with Ukraine and Belarus. Information about bullheads in Russia was searched for in scientific editions and angler's blogs. Anglers' reports have been verified by survey and fishing. It turned out that brown bullheads did in fact appear in Russia, but not where they were expected: they were found by the city of Saint Petersburg on the Karelian Isthmus, i.e., on the territory between Lake Ladoga and the Gulf of Finland of the Baltic Sea. They inhabit at least three lakes. This invasion resulted from release by unauthorized individuals. The revealed habitats are linked by brooks with the river systems of the Baltic Sea Basin. The following spread of the brown bullhead is possible due to intentional releases and natural processes.
Keywords:
brown bullhead, Ameiurus nebulosus, introduction, unauthorized individuals, Saint Petersburg, Russia
Downloads
Download data is not yet available.
References
Biological invasions in aquatic and terrestrial ecosystems. 2004. KMK Scientific Press Ltd, Moscow. (In Russian)
Bogutskaya, N. G. and Naseka, A. M. 2004. Catalogue of agnathans and fishes of fresh and brackish waters of Russia with comments on nomenclature and taxonomy. KMK Scientific Press Ltd, Moscow. (In Russian)
Makushok, M. E. 1951. Dwarf catfish, its economic significance and particularities of biology. AN BSSR, Minsk. (In Russian)
Page, L. M. and Burr, B. M. 2011. Peterson field guide to freshwater fishes of North America north of Mexico. Houghton Mifflin Harcourt, Boston, Massachusetts, USA.
Popov, I. 2016. Role of the Russian section of the Gulf of Finland and its basin in the ecosystems of the Baltic Sea; pp. 1–22 in Baltic and Black Sea: Ecological Perspectives, Biodiversity and Management. Nova Science Publishers. New York.
Zhukov, P. I. 1965. Fishes of Belarus. Nauka i tekhnika, Minsk. (In Russian)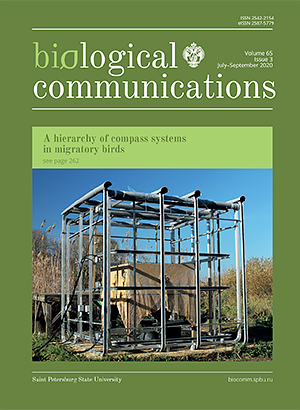 How to Cite
Popov, I., & Kotova, A. (2020). Brown bullhead <em>Ameiurus nebulosus</em&gt; — new fish species for Russia. Biological Communications, 65(3), 238–243. https://doi.org/10.21638/spbu03.2020.303
Section
Full communications
Articles of Biological Communications are open access distributed under the terms of the License Agreement with Saint Petersburg State University, which permits to the authors unrestricted distribution and self-archiving free of charge.