Emergence of reflexivity relation without identity matching-to-sample training in hooded crows (Corvus cornix)
Maria Samuleeva

Faculty of Biology, Lomonosov Moscow State University, Leninskiye Gory, 1–12, Moscow, 119192, Russian Federation; Center for Biopsychological Research, Moscow Institute of Psychoanalysis, Kutuzovskij pr., 34, Moscow, 121170, Russian Federation

https://orcid.org/0000-0002-6855-7046

Anna Smirnova

Faculty of Biology, Lomonosov Moscow State University, Leninskiye Gory, 1–12, Moscow, 119192, Russian Federation

https://orcid.org/0000-0002-4446-2990
Abstract
The ability to form equivalent relations between sign and referent—symbolization—is one of the important cognitive components of language. Equivalent relations have the properties of symmetry (if A→B then B→A), reflexivity (A→A, B→B), and transitivity (if A→B and B→C, then A→C). The current study evaluates whether reflexivity can be spontaneously revealed in hooded crows (Corvus cornix) without training after the formation of the symmetry relation. These birds were previously taught an arbitrary matching-to-sample task with the letters "S" and "V" as samples, and sets of images (same-sized and different-sized figures) as comparisons. Positive results in the transfer tests showed that the crows associated letters with the concepts of sameness/difference. After that, they successfully passed the symmetry test, in which samples and comparisons were switched around. In the present experiment we found out that the crows passed the reflexivity test (A→A, B→B) without identity training. We hypothesize that if the subject associates the sample not with certain stimuli but rather with concepts, it facilitates the formation of equivalence relations between them.
Keywords:
equivalence, reflexivity, symmetry, concept formation, identity matching-to-sample, arbitrary matching-to-sample, hooded crows
Downloads
Download data is not yet available.
References
Burlak, S. A. 2018. Origin of the language: facts, studies, hypotheses. Alpina non-fiction, Moscow. (In Russian)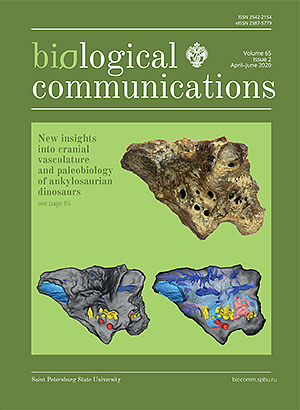 How to Cite
Samuleeva, M., & Smirnova, A. (2020). Emergence of reflexivity relation without identity matching-to-sample training in hooded crows (<em>Corvus cornix</em&gt;). Biological Communications, 65(2), 157–162. https://doi.org/10.21638/spbu03.2020.202
Section
Full communications
Articles of Biological Communications are open access distributed under the terms of the License Agreement with Saint Petersburg State University, which permits to the authors unrestricted distribution and self-archiving free of charge.