An account of the activity of the secret toadhead agama (Phrynocephalus mystaceus mystaceus Pall. 1776) during assessments of its population
Galina Polynova

Russian Peoples' Friendship University, 8/5, Podol'skoe avenue, Moscow, 113093, Russian Federation
Abstract
The detailed study of the activity of the Phrynocephalus mystaceus mystaceus population in Astrakhan semi-deserts showed that almost all resident lizards had some rest periods (1–4 days), when they do not emerge on the surface. The account of the lizards' activity allows proposing some correcting coefficient, which is 1.88. This coefficient should be used to obtain more precise data on the population number based on one-day registrations. Refs 9. Tables 3.
Keywords:
Phrynocephalus mystaceus mystaceus, Astrakhan semi-deserts, population, activity, registration, population number, correcting coefficient
Downloads
Download data is not yet available.
References
Brushko Z. K. Aktivnost' i ubezhishcha ushastoi kruglogolovki v peskakh srednego techeniia r. Ili [Activity and shelters of agamid lizards in sandy deserts of the middle reaches of the river Ily]. Izv. AN KazSSR [Proceedings of the Kazakh Academy of Science], 1979, issue 2, pp. 35–40. (In Russian)
Bondarenko D. A. Vliianie aktivnosti kruglogolovok (Sauria, Phrynocephalus) na otsenku plotnosti ikh naseleniia [Impact of lizards (Sauria, Phrynocephalus) activity to assess the density of their population]. Ekologiia [Ecology], 1992, no. 6, pp. 79–82. (In Russian)
Semenov D. V., Borkin L. J. Peremeshchenie i individual'nye uchastki u pestroi kruglogolovki Phrynocephalus versicolor (Reptilia, Agamidae) v Zaaltaiskoi Gobi, Mongoliia [Moving and individual territiries of Phrynocephalus versicolor (Reptilia, Agamidae) in Zaaltayskoe Gobi , Mongolia]. Zoologicheskii zhurnal [Zoological journal], 1985, vol. 64, no. 2, pp. 252–263. (In Russian)
Polynova G. V., Bazhinova A. V. Uchet osobennostei aktivnosti pri otsenke chislennosti populiatsii kruglogolovki-vertikhvostki (Phrynocephalus guttatus guttatus) [Assessment of the Phrynocephalus guttatus guttatus population number with regard to daily activity of animals]. Zoologicheskii zhurnal [Zoological journal], 2012, vol. 91, no. 11, pp. 1411–1414. (In Russian)
Bondarenko D. A. Sravnitel'naia kharakteristika dvukh metodov ucheta dnevnykh iashcherits [Comparative characteristics of the two methods of day lizards accounting]. Voprosy gerpetologii [Questions of Herpetology]. Leningrad, Nauka Publ., 1977, pp. 41–42. (In Russian)
Bondarenko D. A. Puti povysheniia tochnosti kolichestvennykh uchetov presmykaiushchikhsia [Ways to improve the accuracy of the quantitative surveys of reptiles]. Materialy pervoi konferentsii Ukrainskogo gerpetologicheskogo obshchestva [Materials of the first conference of Ukrainian herpetologists]. Kiev, Zoomuzei NNPM NAN Ukrainy Publ., 2005, pp. 18–22. (In Russian)
Mayhew W. W. Biology of the granite spring lizard, Sceloporus orcutti. Amer. Midl. Nat., 1963, vol. 69, no. 2, pp. 310–327.
Tinkle D. W., Woodward D. W. Relative movements of lizards in natural populations as determined from receptive radii. Ecology, 1967, vol. 48, no. 1, pp. 166–168.
Semenov D. V., Shenbrot G. I. Otsenka absoliutnoi plotnosti populiatsii iashcherits s uchetom kraevogo effekta [Evaluation of lizards' absolute population density in view of the edge effect]. Zoologicheskii zhurnal [Zoological journal], 1985, vol. 64, no. 8, pp. 1246–1253. (In Russian)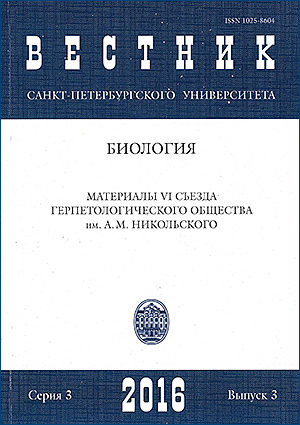 How to Cite
Polynova, G. (2016). An account of the activity of the secret toadhead agama (<em>Phrynocephalus mystaceus mystaceus</em&gt; Pall. 1776) during assessments of its population. Biological Communications, (3), 120–125. https://doi.org/10.21638/11701/spbu03.2016.320
Section
Full communications
Articles of Biological Communications are open access distributed under the terms of the License Agreement with Saint Petersburg State University, which permits to the authors unrestricted distribution and self-archiving free of charge.