Racerunners of Kyrgyzstan and southeastern part of Kazakhstan (Sauria, Lacertidae, Eremias multiocellata-complex)
Valentina Orlova

Zoological Museum of M.V. Lomonosov State University, 6, Bolshaya Nikitskaya Str., Moscow, 125009, Russian Federation

Marina Chirikova

Institute of Zoology MES RK, 93, al-Farabi Av., Almaty, 050060, Kazakhstan

Roman Nazarov

Zoological Museum of M.V. Lomonosov State University, 6, Bolshaya Nikitskaya Str., Moscow, 125009, Russian Federation

Nikolay Poyarkov

Lomonosov State University, 1–12, Leninskie Gory, Moscow, 119234, Russian Federation
Abstract
Four species from the E. multiocellata-complex occur in Kyrgyzstan and southeastern Kazakhstan. The taxonomic state of the populations from Kazakhstan is ambiguous. The results of comparative morphological analysis (habitus, color pattern on the dorsal side of the body, metric and meristic characters) in the E. stummeri from two localities in Kyrgyzstan (including type locality) and south-eastern Kazakhstan are presented. Significant differences were revealed in Sq., G. and L. /L. cd features. As a result, the racerunners from the southeastern Kazakhstan are morphologically identified as E. stummeri. Our observations and the analysis of the museum collections confirm independent specific states of three allopatric species of E. multiocellata-complex in Kyrgyzstan and Kazakh Tien Shan. Refs 14. Figs 1. Tables 1.
Keywords:
racerunners, Kyrgyzstan, Eremias multiocellata-complex, morphology, distribution, taxonomy
Downloads
Download data is not yet available.
References
Eremchenko V. K., Panfilov A. M. Taksonomicheskoe polozhenie glazchatykh iashchurok kompleksa Eremias multiocellata Kirgizii i sopredel'nogo Kitaia (Sauria: Lacertidae: Eremias) [Taxonomic position and geographic relations of a lacertid lizard Eremias velox from the Issyk-Kul lake depression, Tien Shan mountains, Kyrgyzstan]. Nauka i Novye Tekhnologii. Ser. Biol. [Science and New Technologies. Ser. Biol.], 1999, no. 4, pp. 112–124. (In Russian)
Anan'eva N. B. Novye dannye po rasprostraneniiu dvukh vidov iashchurok v Kazakhstane [New data on distribution of two species of racerunners in Kazakhstan]. Izv. AN Kaz.SSR, Ser. Biol., 1972, no. 1, pp. 50–52. (In Russian)
Prokopov K. P. Nakhodka glazchatoi iashchurki Eremias multiocellata v Zaisanskoi kotlovine [A record of the multiocellated racerunner Eremias multiocellata in Zayssan Depression]. Izv. AN Kaz.SSR, Ser. Biol., 1978, no. 1, pp. 40–41. (In Russian)
Brushko Z. K. Iashcheritsy pustyn' Kazakhstana [The lizards of Kazakhstan deserts]. Almaty, Konzhyk Publ., 1995. 228 p. (In Russian)
Orlova V. F. Distribution and variability of Eremias multiocellata Gunther from East Kazakhstan region (Kazakhstan). Abstr. 8th O. G. M. Soc. Europ. Herpetol. Bonn, 1995, pp. 90.
Chirikova M. A., Duisebaeva T. N., Belialov O. V. Novaia nakhodka iashchurki Eremias multiocellata kompleksa v Kazakhstana [New finds of the racerunner of Eremias multiocellata complex in Kazakhstan]. Mezhdunar. nauch. konf. "Bioraznoobrazie zhiv. mira Kazakhstana, problemy sokhran. i ispol'zov." [Materials of the International scientific conference "Biological diversity of the animal world of Kazakhstan, problems of conservation and use" 17–20 October, 2007]. Almaty, 2007, pp. 138–139. (In Russian)
Dujsebayeva T. N., Chirikova M. A., Belyalov O. V. New finds of the racerunner of Eremias multiocellata complex in Kazakhstan. Russ. J. Herpetol., 2009, vol. 16, no. 1, pp. 51–56.
Anan'eva N. B., Orlov N. L., Khalikov R. G., Darevskii I. S., Riabov S. A., Barabanov A. V. Atlas presmykaiushchikhsia Severnoi Evrazii (Taksonomicheskoe raznoobrazie, geograficheskoe rasprostranenie i prirodookhrannyi status) [Colored Atlas of the Reptiles of the North Eurasia (Taxonomic diversity, Distribution, Conservation Status)]. St. Petersburg, Zoologicheskii institut, 2004. 232 p. (In Russian)
Orlova V. F., Dunaev E. A., Nazarov R. A., Terbish Kh., Erdentushig P. Materialy po gerpetofaune Iugo-Zapadnoi Mongolii [Materials on herpetofauna of Southwestern Mongolia]. Sovremennaia gerpetologiia [Actual Herpetology], 2014, vol. 14, issue 1/2, pp. 32–43. (In Russian)
Paraskiv K. P. Presmykaiushchiesia Kazakhstana [Reptiles of Kazakhstan]. Alma-Ata, AN KazSSR Publ., 1956. 228 p. (In Russian)
Truweller K. A., Makarov A. N., Orlova V. F. Method of the simplified evaluation of genetic differentiation of the Asian Eremias lizards. Russ. J. of Herpetol., 1994, vol. 1, no. 2, pp. 133–142.
Iakovleva I. D. Presmykaiushchiesia Kirgizii [Reptiles of the Kirgizstan]. Frunze, Ilim Publ., 1964. 270 p. (In Russian)
Shcherbak N. N. Iashchurki Palearktiki [Palearctic Eremias lizards]. Kiev, Naukova dumka Publ., 1974. 296 p. (In Russian)
Eremchenko V. K., Panfilov A. M., Tsarinenko E. I. Eremias multiocellata-complex: reshenie nekotorykh spornykh voprosov sistematiki glazchatykh iashchurok Kirgizii (Sauria, Lacertidae, Eremias) [Eremias multiocellata complex: solution of some problems in systematics of the multiocellated racerunners of Kyrgyzstan]. Konspekt issledovanii po tsitogenetike i sistematike nekotorykh aziatskikh vidov Scincidae i Laceridae [Conspectus of the Researches on Cytogenetics and Systematics of some Asiatic species of Scincidae and Laceridae]. Bishkek, Ilim Publ., 1992, pp. 65–80. (In Russian)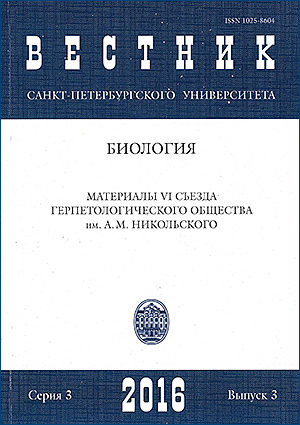 How to Cite
Orlova, V., Chirikova, M., Nazarov, R., & Poyarkov, N. (2016). Racerunners of Kyrgyzstan and southeastern part of Kazakhstan (Sauria, Lacertidae, <em>Eremias multiocellata</em&gt;-complex). Biological Communications, (3), 113–119. https://doi.org/10.21638/11701/spbu03.2016.319
Section
Full communications
Articles of Biological Communications are open access distributed under the terms of the License Agreement with Saint Petersburg State University, which permits to the authors unrestricted distribution and self-archiving free of charge.