The genes determining synthesis of pigments in cotton
Aleksandra Mikhailova

Department of Genetics and Biotechnology, Faculty of Biology, Saint Petersburg State University, Universitetskaya nab., 7–9, Saint Petersburg, 199034, Russian Federation; Federal Research Center N. I. Vavilov All-Russian Institute of Plant Genetic Resources, B. Morskaya Str., 42–44, Saint Petersburg, 190000, Russian Federation

https://orcid.org/0000-0003-4565-1539

Ksenia Strygina

Federal Research Center N. I. Vavilov All-Russian Institute of Plant Genetic Resources, B. Morskaya Str., 42–44, Saint Petersburg, 190000, Russian Federation; Federal Research Center Institute of Cytology and Genetics, Siberian Branch of the Russian Academy of Sciences, Pr. Akademika Lavrentyeva, 10, Novosibirsk, 630090, Russian Federation

https://orcid.org/0000-0001-6938-1348

Elena Khlestkina

Federal Research Center N. I. Vavilov All-Russian Institute of Plant Genetic Resources, B. Morskaya Str., 42–44, Saint Petersburg, 190000, Russian Federation; Federal Research Center Institute of Cytology and Genetics, Siberian Branch of the Russian Academy of Sciences, Pr. Akademika Lavrentyeva, 10, Novosibirsk, 630090, Russian Federation

https://orcid.org/0000-0002-8470-8254
Abstract
Naturally coloured cotton is environmentally friendly, since bleaching and chemical dyeing are not needed during textile production. Studying molecular-genetic mechanisms underpinning pigment production may facilitate breeding cotton with coloured fibre. In the current review we summarize the known data on structural and regulatory genes involved in biosynthesis of flavonoid pigments proanthocyanidins (PAs) in brown and caffeic acid (CA) in green fibre. The first chapter considers the first studies on fibre cotton inheritance, from the beginning of the last century. Then, we briefly review the biochemical and physico-chemical methods proving the presence of PAs in brown fibre and derivatives of CA in green cotton fibre. The biochemical analysis of coloured cotton fibre was followed by genetic studies of structural genes coding for enzymes participating in PA and CA biosynthesis, transport and oxidation processes. We summarize the data on the genes coding for transcription factors from the MBW (MYB-bHLH-WD40) regulatory complex, which controls flavonoid biosynthesis in coloured cotton fibre. The regulatory gene most interesting as a target for markers-assisted breeding and genome editing is GhTT2-3A.
Keywords:
brown fibre, caffeic acid, flavonoids, green fibre, Gossypium, MBW regulatory complex, proanthocyanidins
Downloads
Download data is not yet available.
References
Ling, F., Hu, W.-R., Yang, Y., and Li, B. 2012. Plant special cell – cotton fiber 1. Botany, Dr. John Mworia (Ed.), pp. 211–226.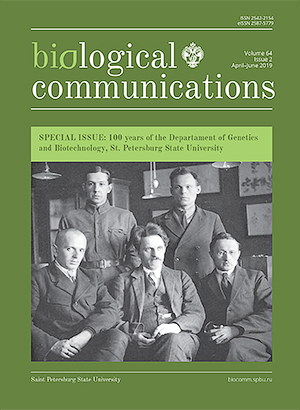 How to Cite
Mikhailova, A., Strygina, K., & Khlestkina, E. (2019). The genes determining synthesis of pigments in cotton. Biological Communications, 64(2), 133–145. https://doi.org/10.21638/spbu03.2019.205
Section
Review communications
Articles of Biological Communications are open access distributed under the terms of the License Agreement with Saint Petersburg State University, which permits to the authors unrestricted distribution and self-archiving free of charge.