The distribution and ecology of the middle lizards Lacerta media Lantz et Cyren, 1920 (Reptilia: Sauria: Lacertidae) in Dagestan
Lyudmila Mazanaeva

Dagestan State University, 43-a, ul. Gadzhieva, Makhachkala, 367000, Republic of Dagestan, Russian Federation

Azim Askenderov

Dagestan State University, 43-a, ul. Gadzhieva, Makhachkala, 367000, Republic of Dagestan, Russian Federation; Caspian Institute of Biological Resources Dagestan Scientific Center RAS, 45, ul. Gadzhieva, Makhachkala, 367000, Republic of Dagestan, Russian Federation
Abstract
The article presents information on the distribution of Lacerta media in Dagestan and neighboring areas of Georgia and Azerbaijan. On the basis of original data and available literature, a map of finds of lizards has been created. Previously unknown populations in Dagestan are described. Generally, Lacerta media is widespread in the mountainous part of the republic. The range of inhabited altitudes is 840−2250 m above sea level. The area of the species range in Dagestan of about 521 kmІ (1.04 % of the whole territory of the Republic and 1.86 % of the area of its mountainous part) is represented by four small isolated territories. The lizard lives in the large semi-arid valleys of mountain rivers (Samur, Kurakh, Andiyskoye Koysu, Avarskoye Koysu). The population density is 7.5–10 to 50–62.2 ind./ha. The maximum density of lizards was discovered in the valley of the river Samur, the minimum — Andiyskoye Koysu and Kurakh. The increased number of lizards in some locations is due to their inaccessibility to people and, therefore, poor anthropogenic development. The geobotanical characteristics of biotopes in different parts of the regional area is presented. The species population is stable in the region. The lizard is protected in the Kosobo-Kelebskiy reserve. Refs 16. Figs 1.
Keywords:
Oriental Th ree-streaked Green Lizard, Dagestan, distribution, biotope, population data
Downloads
Download data is not yet available.
References
Anan'eva N. B., Orlov N. L., Khalikov R. G., Darevskii I. S., Riabov S. A., Barabanov A. V. Atlas presmykaiushchikhsia Severnoi Evrazii (taksonomicheskoe raznoobrazie, geografi cheskoe rasprostranenie i prirodookhrannyi status) [Atlas of reptiles of northern Eurasia (taxonomic diversity, geographic distribution and conservation status)]. St. Petersburg, ZIN RAN Publ., 2004. 232 p. (In Russian)
Dunaev E. A., Orlova V. F. Zemnovodnye i presmykaiushchiesia Rossii. Atlas-opredelitel' [Amphibians and Reptiles of Russia. Atlas determinant]. Moscow, Fiton+ Publ., 2012. 320 p. (In Russian)
Krasnaia kniga Rossiiskoi Federatsii: Zhivotnye [The Red Data Book of the Russian Federation: Animals]. Moscow, Astrel' Publ., 2001. 862 p. (In Russian)
Krasnaia kniga Respubliki Dagestan [The Red Data Book of the Republic of Dagestan]. Makhachkala, 2009. 552 p. (In Russian)
Krasnaia kniga Krasnodarskogo kraia (zhivotnye) [The Red Data Book of Krasnodar region (animals)]. Krasnodar, Tsentr razvitiia PTR Krasnodar. kraia Publ., 2007. 504 p. (In Russian)
Krasovskii D. B. Materialy k poznaniiu fauny nazemnykh pozvonochnykh Rutul'skogo kantona Dagestanskoi ASSR [Materials to the knowledge of the fauna of terrestrial vertebrates Rutul canton of the Dagestan ASSR]. Izvestiia 2-go Severo-Kavkazskogo ped. inst. im. T. Godieva [News of T. Godiev 2nd North Caucasian pedagogical institute]. Ordzhonikidze, vol. IX. 1932, pp. 185–218. (In Russian)
Khoniakina Z. P. Polosataia i sredniaia iashcheritsy Dagestana [A striped and middle lizards of Dagestan]. Issledovaniia po zoologii i parazitologii v Dagestane. Sb. nauchnykh soobshchenii kafedry zoologii Dagestanskogo gos. un-ta [Research on zoology and parasitology in Daghestan. Collected papers of department of Zoology of Daghestan State University]. Makhachkala, 1972, pp. 150–159. (In Russian)
Roitberg E. S., Mazanaeva L. F., Ilyina E. V., Orlova V. F. Die Echsen Dagestans (Nordkaukasus, Russland): Artenliste und aktuelle Verbreitungsdaten (Reptilia: Sauria: Gekkonidae, Agamidae, Anguidae, Scincidae et Lacertidae). Faunistische Abhandlungen, Staatliches Museum. Tierkunde. Dresden, 2000, vol. 22, no. 8, pp. 97–118.
Fedina A. E. Osnovnye zakonomernosti landshaftnoi differentsiatsii gornogo Dagestana i ikh vliianie na khoziaistvennoe ispol'zovanie territorii [The main regularities landscape differentiation mountainous Dagestan and their influence on the economic use of territories]. Voprosy landshaft ovedeniia [Issues of landscape science]. Alma-Ata, AN Kaz. SSR Publ., 1963, pp. 35–49. (In Russian)
Gurlev I. A. Prirodnye zony Dagestana [Natural areas of Dagestan]. Makhachkala, Daguchpedgiz Publ., 1972. 210 p. (In Russian)
Rukovodstvo po izucheniiu zemnovodnykh i presmykaiushchikhsia [Guide to studying amphibians and reptiles]. Kiev, 1989. 173 p. (In Russian)
Muskhelishvili T. A. Presmykaiushchiesia vostochnoi Gruzii [Reptiles of Eastern Georgia]. Tbilisi, Metsniereba Publ., 1970. 242 p. (In Russian)
Alekperov A. M. Zemnovodnye i presmykaiushchiesia Azerbaidzhana [Amphibians and Reptiles of Azerbaijan]. Baku, Elm. Publ., 1978. 264 p. (In Russian)
Herman A. J., Bischoff W. Remarks on the herpetofauna of the Caucasian Republic of Georgia, with special reference to the Lacertidae. Podarcis, 2004, 5(2), pp. 28–57.
Arakelyan M. S., Danielyan F. D., Corti S., Sindaco R., Leviton A. E. Herpetofauna of Armenia and Nagorno-Karabakh. Society for the Study of Amphibians and Reptiles, 2011. 154 p.
Ostrovskikh S. V., Plotnikov G. K. Sovremennye arealy i sostoianie populiatsii nekotorykh latsertid Severo-Zapadnogo Kavkaza [Modern state of areals and the populations of some BL Lacertae objects Northwest Caucasus]. Samarskaia Luka: problemy regional'noi i global'noi ekologii [Samarskaya Luka: problems regional and global ecology], 2009, vol. 18, no. 1, pp. 96–100. (In Russian)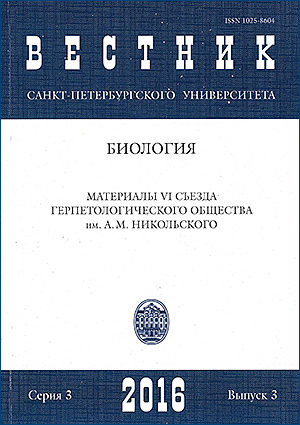 How to Cite
Mazanaeva, L., & Askenderov, A. (2016). The distribution and ecology of the middle lizards <em>Lacerta media</em&gt; Lantz et Cyren, 1920 (Reptilia: Sauria: Lacertidae) in Dagestan. Biological Communications, (3), 93–99. https://doi.org/10.21638/11701/spbu03.2016.316
Section
Full communications
Articles of Biological Communications are open access distributed under the terms of the License Agreement with Saint Petersburg State University, which permits to the authors unrestricted distribution and self-archiving free of charge.