Changing the habitats of true lizards in southwest Caspian region
Artem Kidov

Russian State Agrarian University — K. A. Timiryazev Moscow Agricultural Academy, 49, ul. Timiryazevskaya, Moscow, 127550, Russian Federation

Kseniya Matushkina

Russian State Agrarian University — K. A. Timiryazev Moscow Agricultural Academy, 49, ul. Timiryazevskaya, Moscow, 127550, Russian Federation
Abstract
This article provides data on the distribution of lacertid lizards in the region of the Southwest Caspian. The study was performed between 2007 and 2014 in the territory of Jalilabad, Masalli, Yardimli, Lenkoran, Masalli and Lerik administrative districts of the Republic of Azerbaijan. On the basis of field data and the results of studies of museum collections, we noted a change in the range of lizards under the influence of anthropogenic deforestation. In particular, it is noted that there is a narrowing of the distribution of the green belly lizard, Darevskia chlorogaster and the extension of the habitats of Azerbaijani, D. raddei and striped, Lacerta strigata lizards. Because of the fact that the green belly lizard distribution in the region decreased by more than a third, it is proposed that it be included in the Red Data Book of Azerbaijan. Refs 7. Figs 1.
Keywords:
the green belly lizard, the Azerbaijani lizard, the striped lizard, distribution, Southwestern of Pre-Caspian Region
Downloads
Download data is not yet available.
References
Sobolevskii N. I. Gerpetofauna Talysha i Lenkoranskoi nizmennosti (opyt zoogeograficheskoi monografii) [Herpetofauna of Talysh and Lenkoran lowland (zoogeographical monography experience)]. Memuary zool. otd. Obshchestva liubitelei estestvoznaniia, antropologii i etnografii [Memoirs of the Zoological branch of the Society of naturalists, anthropology and ethnography]. Moscow, 1929. Issue 5. 143 p. (In Russian)
Demographic indicators of Azerbaijan. Official publication. Statistical yearbook. Baku, 2012. 460 p.
Scharnweber T., Rietschel M., Manthey M. Degradation stages of the Hyrcanian forests in Southern Azerbaijan. Archiv für Naturschutz und Landschaft sforschung, 2007, Bd. 46, no. 2, pp. 133–156.
Ahmadzadeh F., Flecks M., Carretero M. A., Mozaffari O., Böhme W., Harris D. J., Freitas S., Rodder D. Cryptic speciation patterns in Iranian rock lizards uncovered by integrative taxonomy. PLos One, 2013, 8(12), e80563.
Bannikov A. G., Darevskii I. S., Ishchenko V. G., Rustamov A. K., Shcherbak N. N. Opredelitel' zemnovodnykh i presmykaiushchikhsia fauny SSSR [The Identification book amphibians and reptiles of the USSR fauna]. Moscow, Prosveshchenie Publ., 1977. 415 p. (In Russian)
Kidov A. A., Matushkina K. A., Timoshina A. L. O rasshirenii arealov kaspiiskogo gekkona (Cyrtopodion caspius (Eichwald, 1831)) i kavkazskoi koshach'ei zmei (Telescopus fallax (Fleischmann, 1831)) v iugo-vostochnom Azerbaidzhane [The habitat expansion of Caspian bent-toed gecko (Cyrtopodion caspius (Eichwald, 1831)) and Caucasian cat snake (Telescopus fallax (Fleischmann, 1831)) in southeastern Azerbaijan]. Sovremennaia gerpetologiia [Current Studies of Herpetology], 2012, vol. 12, issue 1/2, pp. 56–60. (In Russian)
Alekperov A. M. Zemnovodnye i presmykaiushchiesia Azerbaidzhana [Amphibians and Reptiles of Azerbaijan]. Baku, Elm Publ., 1978. 264 p. (In Russian)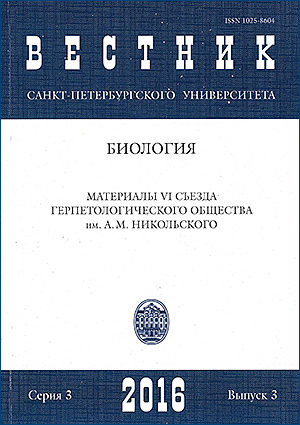 How to Cite
Kidov, A., & Matushkina, K. (2016). Changing the habitats of true lizards in southwest Caspian region. Biological Communications, (3), 50–53. https://doi.org/10.21638/11701/spbu03.2016.309
Section
Full communications
Articles of Biological Communications are open access distributed under the terms of the License Agreement with Saint Petersburg State University, which permits to the authors unrestricted distribution and self-archiving free of charge.