4-Ketobacteriorhodopsin and features of its photocycle
Lyubov Khitrina

Lomonosov Moscow State University, 1–12, Leninskie Gory, Moscow, 119234, Russian Federation
Abstract
The article overviews the studies of 4-ketobacteriorhodopsin and its properties, namely spectral characteristics, peculiarities of fast kinetics at optical and electrical measurements, photocycle efficacy and its relation to opsin shift, preparation of individual isomers and peculiarities of its photocycle, rate and direction of dark and light-induced isomerization, nanotechnological aspects. It discusses some mistakes in interpretation of the research results, led to elaboration of photocycle scheme with three parallel cycles. To make comparisons the brief history of bacteriorhodopsin photocycle research is also taken into account.
Keywords:
bacteriorhodopsin, 4-ketoretinal, photocycle, 13-cis-cycle, cis-trans-isomerization of chromophore
Downloads
Download data is not yet available.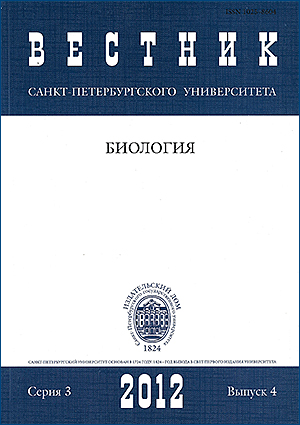 How to Cite
Khitrina, L. (2012). 4-Ketobacteriorhodopsin and features of its photocycle. Biological Communications, (4), 82–92. Retrieved from https://biocomm.spbu.ru/article/view/3202
Section
Full communications
Articles of Biological Communications are open access distributed under the terms of the License Agreement with Saint Petersburg State University, which permits to the authors unrestricted distribution and self-archiving free of charge.