Cytostatic activity in the hydrophilic fraction of the crude extract from the White Sea sponge Halichondria panicea
Abstract
Halichondria panicea, commonly known as the breadcrumb sponge, is an ecologically aggressive and widespread species in the coastal waters of North Atlantic and North Pacific. Cytostatic activity of the water-soluble extract fraction from the White Sea sponge Halichondria panicea was tested using organotypic cultures of rat liver fragments. The study shows a pronounced negative dose-dependent effect of the extract on the development of tissue explants of the test animals. Our results confirm toxicity of the White Sea Halichondria panicea, which was revealed earlier toward marine epibenthic organisms. The chemical nature of a substance or substances responsible for toxic effect is discussed.
Keywords:
Halichondria panicea, White Sea, organotypic culture, cytostatic activity, crude extract
Downloads
Download data is not yet available.
References
Freshney, R. I. 1994. Culture of animal cells: a manual of basic technique. 3rd edition. New York: Wiley-Liss.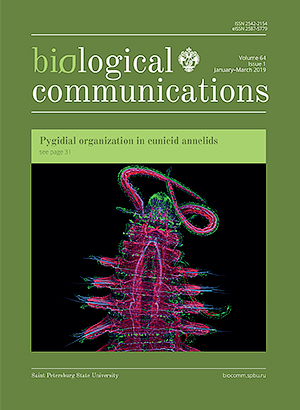 How to Cite
Khalaman, V., Chalisova, N., Krasnov, K., & Alexandrova, M. (2019). Cytostatic activity in the hydrophilic fraction of the crude extract from the White Sea sponge <em>Halichondria panicea</em&gt;. Biological Communications, 64(1), 41–45. https://doi.org/10.21638/spbu03.2019.105
Section
Full communications
Articles of Biological Communications are open access distributed under the terms of the License Agreement with Saint Petersburg State University, which permits to the authors unrestricted distribution and self-archiving free of charge.