Interpopulation variability of the urinal sperm of the moor frog (Rana arvalis Nilsson, 1842)
Ekaterina Baitimirova

Institute of Plant and Animal Ecology, Ural Branch of the Russian Academy of Sciences, 202, ul. 8 Marta, Ekaterinburg, 620144, Russian Federation

Tatiana Melnikova

The Ural State Mining University, 30, ul. Kujbysheva, Ekaterinburg, 620144, Russian Federation
Abstract
We assessed the concentration and motility of spermatozoa in native urinal sperm samples of the moor frog. Males (57 ind.) were caught in spring in three water pools different of hydrochemical composition. Samples of the urinal sperm were obtained after hormonal stimulation of animals by synthetic analogues of GRH (Surfagon). Sperm concentration was higher in amphibians from reservoirs with a background mineralization than that in other localities. The maximum marked value was 110 million per ml. It is worth noting that in this locality we observed the minimal number of motile spermatozoa in males. More than 95 % of spermatozoa in the samples studied showed motility only in situ. We very rarely observed progressive motility of spermatozoa. It is suggested that the fact is probably due to the magnitude of the osmotic pressure of the urine of animals, and can also be a consequence of parasitic infestation in male amphibians. Refs 2. Figs 2. Tables 1.
Keywords:
amphibians, moor frog, reproduction, spermatozoa, urinal sperm, hormonal stimulation, hydrochemistry, mineralization
Downloads
Download data is not yet available.
References
Byrne P. G., Dunne C., Munn A. J., Silla A. J. Environmental osmolality influences sperm motility activation in an anuran amphibian. Journal of Evolutionary Biology, 2015, vol. 28: European society for evolutionary biology, pp. 521–534.
Uteshev V. K., Kidov A. A., Kaurova S. A., Shishova N. V., Mel'nikova E. V., Kovalev A. V. Sravnitel'naia kharakteristika urinal'noi spermy trekh vidov palearkticheskikh burykh liagushek [Comparative characteristic of urinal sperm of three species of palearctic brown frogs]. Vestn. Tomskogo gos. un-ta [Tomsk State University Journal], 2013, vol. 18, no. 6, pp. 3087–3090. (In Russian)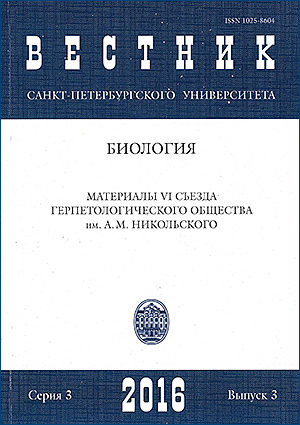 How to Cite
Baitimirova, E., & Melnikova, T. (2016). Interpopulation variability of the urinal sperm of the moor frog (<em>Rana arvalis</em&gt; Nilsson, 1842). Biological Communications, (3), 20–24. https://doi.org/10.21638/11701/spbu03.2016.304
Section
Full communications
Articles of Biological Communications are open access distributed under the terms of the License Agreement with Saint Petersburg State University, which permits to the authors unrestricted distribution and self-archiving free of charge.