The hypothesis of the laurasian origin of iguanomorphan lizards in the light of new paleontological data
Vladimir Alifanov

Borissiak Paleontological Institute, Russian Academy of Sciences, 123, Profsoyuznaya ul., Moscow, 117647, Russian Federation
Abstract
The hypothesis of the initial distribution of iguanomorphan (Iguanidae s.l.) lizards on the territory of the ancient continent Laurasia is represented for the first time in detail. It proposes the formation of two subcentres of geographic origin for this group. The first one is East Laurasia (Central Asia and South-East Asia), associated with an initial expantion of Phrynosomatoidea. The second is West Laurasia (North America), associated with the appearance of Iguanoidea. Refs 8. Figs 1.
Keywords:
lizards, Iguanomorpha, classification, palaeontology, paleozoogeography, Laurasia
Downloads
Download data is not yet available.
References
Estes R. The fossil record and early distribution of lizards. Advance in herpetology and Evolutionary biology: Essays in Honor of Ernest E. Williams. Massachusetts, Cambridge, Museum Compar. Zool., 1983, pp. 365–398.
Borsuk-Bialynicka M., Alifanov V. R. First asiatic 'iguanid' lizards in the late Cretaceous of Mongolia. Acta Palaeontol. Polonica, 1991, vol. 36, issue 3, pp. 325–342.
Gao K., Hou L. Late Cretaceous fossil record and paleobiogeography of iguanian squamates. Sixth Symposium on Mesozoic Terrestrial Ecosystems and Biota (Short Papers). Beijing, China Ocean Press, 1995, pp. 47–50.
Kalandadze N. N., Rautian А. S. Historical zoogeography of terrestrial tetrapods and new method of global palaeogeographical reconstructions. Evolution of the biosphere. Records Queen Victoria Mus., Art Gallery Launceston, issue 104, Launceston, 1997, pp. 95–98.
Frost D. R., Etheridge R. A phylogenetic analysis and taxonomy of iguanian lizards (Reptilia: Squamata). Miscel. Public. Univ. Kansas, 1989, issue 81, pp. 1–65.
Frost D. R., Etheridge R., Janies D., Titus T. A. Total evidence, sequence alignment, evolution of polychrotid lizards, and a reclassification of the Iguania (Squamata: Iguania). Amer. Museum Novitates, 2001, issue 3343, pp. 1–38.
Alifanov V. R. Iashcheritsy semeistva Arretosauridae Gilmore, 1943 (Iguanomorpha, Iguania) iz paleogena Mongolii [Lizards of the family Arretosauridae Gilmore, 1943 (Iguanomorpha, Iguania) from the Paleogene of Mongolia]. Paleontol. zhurnal, 2012, issue 4, pp. 80–87. (In Russian)
Alifanov V. R. Lacertilia [Lacertilia]. Iskopaemye pozvonochnye Rossii i sopredel'nykh stran. Iskopaemye reptilii i ptitsy. Chast' 2. Spravochnik dlia paleontologov, biologov i geologov [Fossil vertebrates of Russia and adjacent countries. The reference book for palaeontologists, biologists and geologists. Fossil Reptiles and Birds. Part 2]. Мoscow: GEOS, 2012. P. 7–136. (In Russian)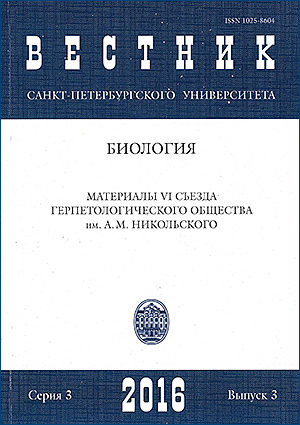 How to Cite
Alifanov, V. (2016). The hypothesis of the laurasian origin of iguanomorphan lizards in the light of new paleontological data. Biological Communications, (3), 10–14. https://doi.org/10.21638/11701/spbu03.2016.302
Section
Full communications
Articles of Biological Communications are open access distributed under the terms of the License Agreement with Saint Petersburg State University, which permits to the authors unrestricted distribution and self-archiving free of charge.