Bird summer distribution patterns on islands in Onega Bay, White Sea
Sergey Simonov

Institute of Biology of the Karelian Research Centre of the Russian Academy of Sciences (IB KarRC RAS), ul. Pushkinskaya, 11, Petrozavodsk, Karelia, 185610, Russian Federation

https://orcid.org/0000-0001-6396-9335

Maria Matantseva

Institute of Biology of the Karelian Research Centre of the Russian Academy of Sciences (IB KarRC RAS), ul. Pushkinskaya, 11, Petrozavodsk, Karelia, 185610, Russian Federation

https://orcid.org/0000-0002-5393-4144
Abstract
We studied avian populations and distribution patterns on 20 islands in Onega Bay, White Sea, with transect surveys completed to register selected biotic and abiotic factors in July 2020. Bird population densities proved to be the highest on small secluded islands rarely visited by humans and on treeless islands. We also found positive correlations between the species richness and the island size, presence of woody vegetation, and human visitation. It is noteworthy that although human interference can cause species diversity on the islands to increase, the relative abundance of birds declined. Furthermore, species diversity increased due to the arrival of species atypical of this region and, hence, lacking the complete set of requisite adaptations. Further human pressure on the islands can eventually destabilise their avifaunal complexes and aggravate the current transformation of northern communities in response to climate change.
Keywords:
birds, White Sea, bird distribution, species composition, environmental factors
Downloads
Download data is not yet available.
References
Cherenkov, A. E., Semashko, V. Yu., and Tertitski, G. M. 2014. Birds of the Solovetsky Islands and Onega Bay of the White Sea (1983–2013). Arkhangelsk. (In Russian)
Danilov, P. I. 2010. Monitoring and conservation of biodiversity in taiga ecosystems of European North of Russia. 310 p. KarRC RAS, Petrozavodsk. (In Russian)
Fraixedas, S. 2017. Bird populations in a changing world: implications for North European Conservation. Academic Dissertation. University of Helsinki, Helsinki.
Goryashko, A. 2020. A wild bird and a cultured man. The common eider and Homo sapiens: fourteen centuries together. 496 p. St Petersburg.
Kalyakin, M. V. and Voltzit, O. V. 2020. Atlas of the breeding birds of European part of Russia. Fiton XXI Publ. Moscow. (In Russian)
Khokhlova, T. Yu. and Artemiev, A. V. 2007. The main results of the long-term ornithological monitoring in the zone of bird's area limits concentration in northwest Russia (Karelia, Zaoneth'ye); pp. 60–74 in Dynamics of the birds' density in terrestrial landscapes. Proceedings of the Russian Scientific conference. A. N. Severtsov Institute of Ecology and Evolution, Moscow. (In Russian)
Lapshin, N. V. 2001. Birds of the islands in Onega Bay, White Sea (birding tours); pp. 127–134 in Natural and cultural heritage of the White Sea Islands. Petrozavodsk.
Lehikoinen, A., Kondratyev, A., Asanti, T., Gustafsson, E., Lamminsalo, O., Lapshin, N., Pessa, J., and Rusanen, P. 2006. Survey of arctic bird migration and staging areas at the White Sea, in the autumns of 1999 and 2004. The Finnish Environment 25. Edita Prima Ltd., Helsinki.
Ligges, U. and Gross, J. 2015. Package 'nortest': Test for Normality. Version 1.0-4.
MacArthur, R. H. and Wilson, E. O. 1967. The Theory of Island Biogeography. 203 p. Princeton University Press, Princeton.
Sazonov, S. V. 1997. Ornithofauna of nature reserves and national parks of the Northern taiga in Eastern Fennoscandia and its zoogeographical analysis. KarRC RAS, Petrozavodsk. (In Russian)
Sazonov, S. V., Artemiev, A. V., Lapshn, N. V., and Khokhlova, T. Y. 2002. Natural complexes, flora and fauna of the proposed Kalevala National Park. Finnish Environment Institute, Karelian Research Centre, Helsinki.
Tsybulin, S. M. 2009. The birds of Altai: the spatiotemporal differentiation and the community structure and organisation. Nauka, Novosibirsk. (In Russian)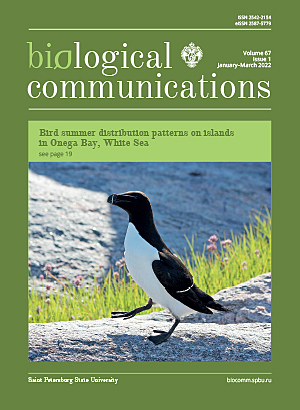 How to Cite
Simonov, S., & Matantseva, M. (2022). Bird summer distribution patterns on islands in Onega Bay, White Sea. Biological Communications, 67(1), 19–31. https://doi.org/10.21638/spbu03.2022.103
Section
Full communications
Articles of Biological Communications are open access distributed under the terms of the License Agreement with Saint Petersburg State University, which permits to the authors unrestricted distribution and self-archiving free of charge.