The crocodilian forearm and wrist: biomechanics and functional morphology
Abstract
An attempt has been made to explain the features of the wrist structure of crocodiles, which sharply distinguish them from other reptiles. Biomechanical model of a crocodilian forearm and manus is created with using of the vector contours method from the theory of mechanisms and machines. The key role of the V finger in the manus stability during the stance phase is shown. On the basis of this data, it is concluded that there is no bipedal stage in evolutionary history of crocodiles and their high specialization for quadrupedal parasagittal running with the emergence of a gallop as a result. The special way of parasagittal forelimb posture of the crocodiles offered to name instant parasagittality.
Keywords:
crocodiles, forelimb, wrist, biomechanics, high walk, parasagittalization
Downloads
Download data is not yet available.
References
Artobolevsky, I. I. 1988. The theory of mechanisms and machines. Moscow, Nauka. (In Russian)
Romer, A. S. 1956. Osteology of Reptiles. Chicago, The University of Chicago Press.
Sennikov, A. G. 1995. Early thecodonts of Eastern Europe. Moscow, Nauka. (In Russian)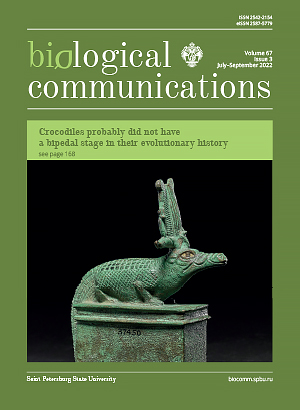 How to Cite
Pashchenko, D. (2022). The crocodilian forearm and wrist: biomechanics and functional morphology. Biological Communications, 67(3), 168–179. https://doi.org/10.21638/spbu03.2022.304
Section
Full communications
Articles of Biological Communications are open access distributed under the terms of the License Agreement with Saint Petersburg State University, which permits to the authors unrestricted distribution and self-archiving free of charge.