Diversity and distribution patterns of antennal sensilla in Hydropsychidae (Insecta, Trichoptera)
Abstract
Structure and distribution of antennal sensilla were studied in males of 19 species of the caddisfly family Hydropsychidae by using scanning electron microscopy (SEM). Eleven types of sensilla were found: long trichoid, chaetoid, thick chaetoid, curved trichoid, coronary, basiconic, styloconic and four types of pseudoplacoid sensilla (mushroom-like, auricillic, ribbed, and T-shaped). Thick chaetoid, ribbed pseudoplacoid, and T-shaped pseudoplacoid sensilla were found only in Macronematinae. The great diversity of pseudoplacoid sensilla originated from a mushroom-like type, which also has a variable structure. Basal flagellomeres in the majority of studied species are equipped with ventrally positioned sensory fields of curved trichoid sensilla. In contrast to Arctopsychinae and Hydropsychinae, the increased number of these sensilla in the fields was noted for Diplectroninae and Smicrideinae. Most Macronematinae show a reduction of sensory fields and a strongly decreased average number of curved trichoid sensilla on distal segments. The great differences found in the studied family probably indicate a rapid function-related evolution of the antennal sensory surface structures in the caddisfly family Hydropsychidae.
Keywords:
sensilla, antenna, Hydropsychidae, Trichoptera
Downloads
Download data is not yet available.
References
Fischer, F. C. J. 1963. Hydropsychidae, Arctopsychidae. Trichopterorum Catalogus 4. 223 p. Nederlandsche Entomologische Vereeniging, Amsterdam.
Geraci, C. 2007. Phylogeny and classification of Hydropsychidae subfamilies and genera of the World (Insecta: Trichoptera). 191 p. All Dissertations 160.
Levanidova, I. M. 1982. Amphibiotic insects of mountain region of the Far East of the USSR. 215 p. Nauka Publ., Leningrad. (In Russian)
Martynov, A. V. 1924. Caddisflies. Practical Entomology. 384 p. Izdatel'stvo akademii nauk SSSR Publ., Leningrad. (In Russian)
Sinitsina, E. E. and Chaika, S. Yu. 2006. Electron microscopy of chemoreceptor organs of Insects: An Atlas. 334 p. Moscow University Press, Moscow. (In Russian)
Snodgrass, R. E. 1935. Principles of insect morphology. McGraw–Hill, New York, London. 667 p. McGraw-Hill, New York; London.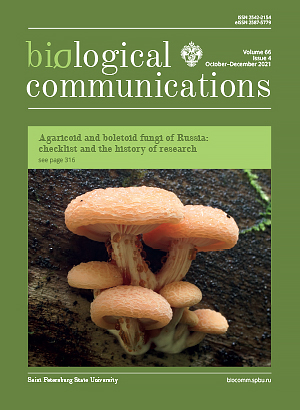 How to Cite
Abu Diiak, K., Valuyskiy, M., Melnitsky, S., & Ivanov, V. (2021). Diversity and distribution patterns of antennal sensilla in Hydropsychidae (Insecta, Trichoptera). Biological Communications, 66(4), 302–315. https://doi.org/10.21638/spbu03.2021.403
Section
Full communications
Articles of Biological Communications are open access distributed under the terms of the License Agreement with Saint Petersburg State University, which permits to the authors unrestricted distribution and self-archiving free of charge.